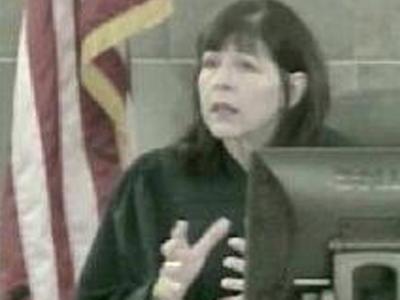 A Las Vegas judge is replacing Nancy Grace as the host of "Swift Justice," the production company announced Tuesday.
Judge Jackie Glass, who presided over the 2007 O.J. Simpson robbery case in Las Vegas, joins the show this fall for its second season.
Glass has been a District Court judge in Clark County since 2003 and has presided over criminal and civil cases. She's known for her work in several high-profile trials and her no-nonsense courtroom style. She has submitted her resignation as a district court judge effective June 10, Clark County Courts spokeswoman Maryann Price said.
"I am thrilled to be joining 'Swift Justice,''' Glass said. "I've always admired Nancy and her inherent sense of justice, and I'm honored to take her spot behind the podium."
The show's production is also moving to Los Angeles from Atlanta, CBS Productions said.
Grace said she is leaving the show in part because of the move to Los Angeles and to spend more time with her family.
"Swift Justice" airs on FOX5 at 4 p.m.