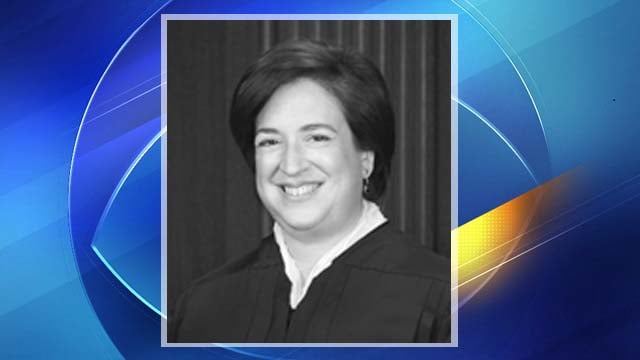 Justice Elena Kagan
According to www.supremecourt.gov, Kagan was born in New York, New York, on April 28, 1960. She received an A.B., summa cum laude, in 1981 from Princeton University. She attended Worcester College, Oxford University, as Princeton's Daniel M. Sachs Graduating Fellow, and received an M. Phil. in 1983. In 1986, she earned a J.D. from Harvard Law School, graduating magna cum laude, where she was supervising editor of the Harvard Law Review. She served as a law clerk to Judge Abner Mikva of the U.S. Court of Appeals for the District of Columbia Circuit from 1986-1987. She served as a law clerk to Justice Thurgood Marshall of the Supreme Court of the United States during the 1987 Term. She worked as an associate in the Washington, D.C. law firm of Williams & Connolly, LLP, from 1989-1991. She became an assistant professor at the University of Chicago Law School in 1991 and a tenured professor of law in 1995. From 1995-1999, she was associate counsel to President Clinton and then served as deputy assistant to the President for Domestic Policy and Deputy Director of the Domestic Policy Council. She joined Harvard Law School as a visiting professor in 1999 and became professor of law in 2001. She was the Charles Hamilton Houston Professor of Law and was appointed the 11th dean of Harvard Law School in 2003. President Obama nominated her to serve as the 45th Solicitor General of the United States and she was confirmed on March 19, 2009. President Obama nominated her as an Associate Justice of the Supreme Court on May 10, 2010, and she assumed this role on August 7, 2010.
On Immigration Issues
Justice Elena Kagan has recused herself from Arizona v. United States because she served as the U.S. Solicitor General at the time the federal government took action against the State of Arizona, but she has weighed in on at least two immigration cases prior to her appointment to the Supreme Court. She argued that it was constitutional to let deported immigrants appeal based on bad legal advice and/or administrative error, according to www.OnTheIssues.org and Andrea Nill Sanchez on Think Progess, "Immigration," May13, 2010.
Copyright 2012 CBS 5 (Meredith Corporation). All rights reserved. OnTheIssues.org and Supremecourt.gov contributed to this report.