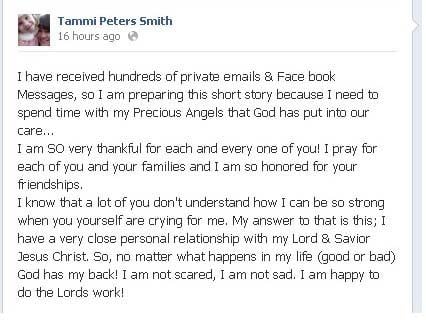 Tammi Smith posted the following status on her Facebook page after the verdict:
I have received hundreds of private emails & Face book Messages, so I am preparing this short story because I need to spend time with my Precious Angels that God has put into our care...
I am SO very thankful for each and every one of you! I pray for each of you and your families and I am so honored for your friendships.
I know that a lot of you don't understand how I can be so strong when you yourself are crying for me. My answer to that is this; I have a very close personal relationship with my Lord & Savior Jesus Christ. So, no matter what happens in my life (good or bad) God has my back! I am not scared, I am not sad. I am happy to do the Lords work!