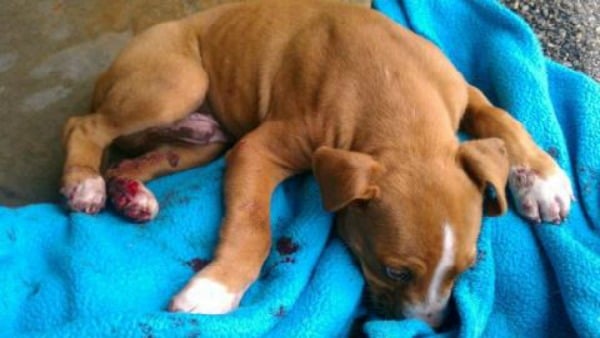 Dozer's injuries
Quincy Egbon McDonnell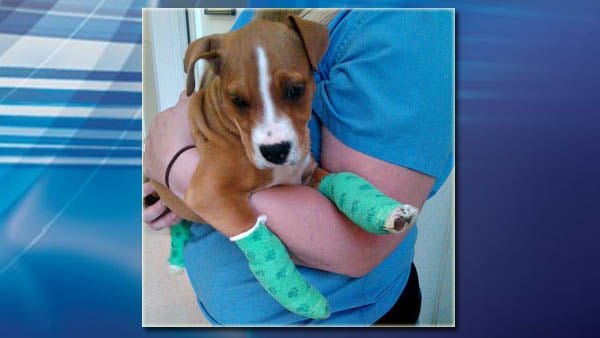 Dozer with his casts
MCDONOUGH, GA (CBS46) -
A 10-week-old boxer puppy who was reportedly thrown out the window of a moving car in front of the Clayton County Animal Care and Control Facility is recovering at a local animal hospital.
The puppy, named Dozer by his rescuers, is now recovering at the McDonough Animal Hospital where Veterinarian Erica Ortiz is caring for him.
"He was launched basically from the passenger window, they didn't even slow down, they just threw him out into the parking lot," Ortiz said.
All four of Dozer's legs were bandaged up after the pads on his feet were torn up when he was thrown onto asphalt. The wounds were so deep that bones and ligaments were exposed. His abdomen was also scraped.
The Clayton County Sheriff's Department released a photo of a 21-year-old Quincy Egbon McDonnell, who witnesses said they saw throw Dozer out of the moving car. Authorities were still investigating whether or not they could charge McDonnell with animal cruelty.
Once Dozer is healed, he can be adopted. Several families have already expressed interest in him.
If you want to help pay for his medical bills, you can donate by calling the McDonough Animal Hospital and donating to the Partners for Pets fund in Dozer's honor. Just call (770) 957-3927.
Copyright 2012 WGCL-TV (Meredith Corporation). All rights reserved.