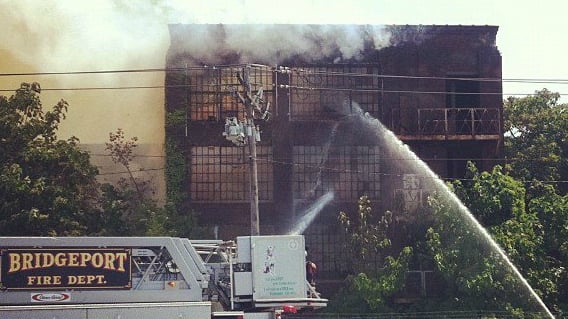 Courtesy: Xavier Pena DahBoss/Facebook
BRIDGEPORT, CT (WFSB) -
Fire crews were on the scene of a fire at the Remington Arms factory in Bridgeport on Aug. 4, 2012.
Crews were dispatched to the scene, near the intersection of Barnum Avenue and Helen Street, just before noon Saturday.
"The whole entire thing was lit on fire and it kept exploding," said nearby resident Yesenia Nivez-Cruz, who said she watched debris come out of the building.
Fire officials told Eyewitness News that no one was injured in the fire.
This was not the first fire at the abandoned factory. A large fire burned for a week at the same place, just two years ago. Another fire was also reported there in 2008. Some of the buildings were set to be torn down in a few weeks, according to officials.
Investigators are continuing to look into the exact cause of the most recent fire, and have not called it suspicious at this point.
Copyright 2012 WFSB (Meredith Corporation). All rights reserved.