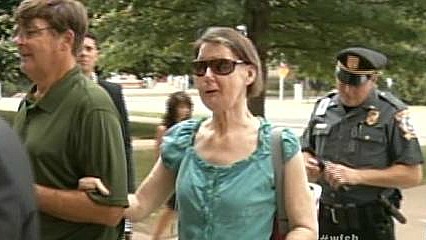 HARTFORD, CT (WFSB) -
State officials are being asked to dismiss a $150 million claim by Charla Nash, the woman who was severely disfigured during an attack by a friend's pet chimpanzee in 2009.
Nash, of Stamford, attended the hearing at state office building in Hartford with her brother and other family members.
Nash, who no doubt has suffered an enormous amount of pain, seemed calm while she was led in. She is blind and has no hands, the end result of the brutal attack by her friend's pet chimp.
Nash wants to sue the state for negligence and believes the Department of Energy and Environmental Protection knew Travis the chimp was dangerous and should have been taken away from his owner.
There's no question that Nash has suffered and her life will never be the same, but the question is - is the state liable?
If the claims commissioner, J. Paul Vance Jr., agrees that the state is somehow responsible, there will be a trial. If not, they can file an appeal.

Vance is not expected to rule on Friday on the motion to dismiss, but he has 30 days to do so.

Copyright 2012 WFSB (Meredith Corporation). All rights reserved.