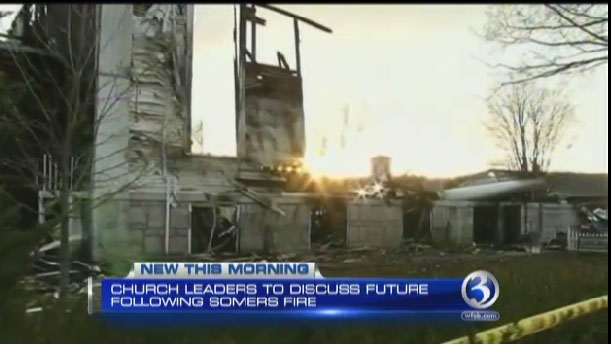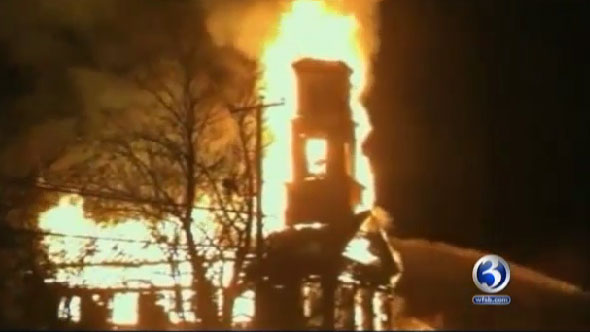 SOMERS, CT (WFSB) -
A groundbreaking ceremony will be held later this month for an historic church in Somers that was destroyed by fire on New Years night.
Firefighters from Somers and surrounding towns were called to 599 Main St. on Jan. 1 after reports of fire and smoke. No one was injured, however the meeting house was quickly destroyed.

The Somers fire marshal and the Connecticut State Police are still investigating what caused the massive blaze.
Rev. Dr. Barry Cass has previously told community members that they "will rebuild" and a church committee is working with the Simsbury architectural firm Clohessy, Harris & Kaiser, LLC. on the project.
The ceremony will mark the start of construction and will be held at 4 p.m. on Sept. 23 at the church. The entire Somers community is invited to the ceremony.
For the foreseeable future, a trailer will serve as the reverend's temporary office. Just a few feet away, are the charred remains from the historic church. The church had stood since 1842.
The Bugbee Center, which housed the Sunday school and preschool, recently reopened and the office wing is expected to reopen in the middle of October.

The church now has a new temporary place of worship while it waits to rebuild. The Johnson Memorial Hospital campus in Stafford gave the church the space.
Copyright 2012 WFSB ( Meredith Corporation). All rights reserved