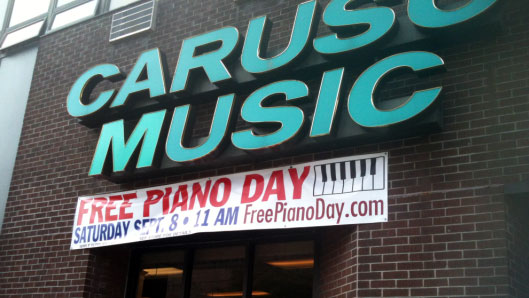 NEW LONDON, CT (WFSB) -
Caruso Music, based in New London, is hosting a free piano day starting at 11 a.m. on Saturday.
People at the store will be able to browse the collection of pianos, can pick one to take home for free or learn about inexpensive piano options for people just starting out with the instrument, or someone with years of experience.
According to the website, there's no contest to enter. All you need to do is show up at the store at 11 a.m. and take away one of the clearly-marked "free" pianos at no charge.
The majority of the pianos came from homes of customers who purchased a new one. Those customers outgrew their old pianos and upgraded. The store removed the old pianos and kept them at Caruso Music.
Unfortunately, store officials said, no one will be able to help you load the piano onto a truck due to liability reasons. They recommend that you use their professional delivery service for a fee.
For more information about the event, click here.
Copyright 2012 WFSB (Meredith Corporation). All rights reserved.