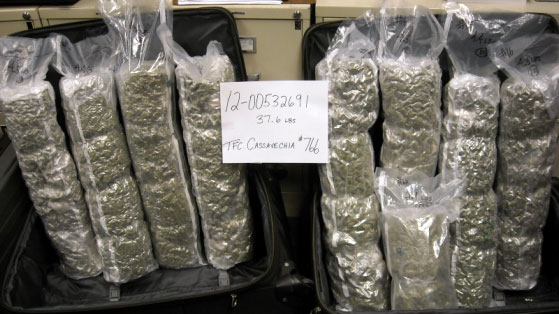 Connecticut State Police said they arrested a man who was found to be in possession of 37 pounds of marijuana during a traffic stop in Danbury on Monday.
State police said a trooper was conducting traffic enforcement on Interstate 84 near Exit 2 when he said he closed a vehicle traveling at a high rate of speed.
When the trooper pulled out in an attempt to pull the vehicle over, the vehicle sped up to more than 85 mph in a 55 mph zone.
State police said the trooper finally caught up to the vehicle and pulled it over on Route 7 south near the Danbury Mall.
State police said the trooper approached the vehicle and he said there was a strong odor of marijuana coming from inside.
A search of the vehicle was conducted and the trooper said he found a small amount of marijuana in a bag on the passenger's side on the floor. Another search was conducted and inside two large suitcases, state police said the trooper found 37.6 pounds of marijuana.
The driver, who has been identified as William J. Servos, 28, of West Hartford was arrested and charged with possession of marijuana, possession of marijuana, possession of drug paraphernalia and reckless driving.
He was released on $50,00 bond and was given a court date of Oct. 1.
Copyright 2012 WFSB (Meredith Corporation). All rights reserved.