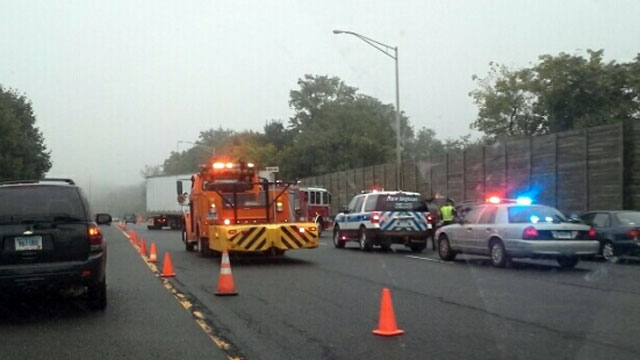 This iWitness photo was sent in near the scene of the crash on Route 9.
NEW BRITAIN, CT (WFSB) -
Traffic was backed up for miles after a tractor-trailer jackknifed on Route 9 in New Britain on Wednesday morning.
According to Connecticut State Police, a tractor-trailer was traveling northbound on Route 9 just before 8:30 a.m. when the driver lost control of the vehicle and slammed into the jersey barrier. The vehicle went off the roadway and came to rest across both lanes of travel, police said.
Traffic quickly backed up and caused heavy delays for morning commuters Wednesday. The center and right lanes were shut down until 12:30 p.m.

The driver of the tractor-trailer was identified as Stephen Lopresti, 27, of North Haven. He works for Andreucci Trucking Inc.
Lopresti suffered a minor injury, but declined medical treatment at the scene, police said.
The tractor-trailer sustained damage to the front bumper, fuel tank and right side and had to be towed from the scene.
About 50 gallons of diesel fuel leaked onto the roadway and into a nearby storm drain, police said. Earth Technology Inc. along with Alpine Environmental Services recovered all the hazardous material, police said.
The crash is still under investigation by state police.

Copyright 2012 WFSB (Meredith Corporation). All rights reserved.