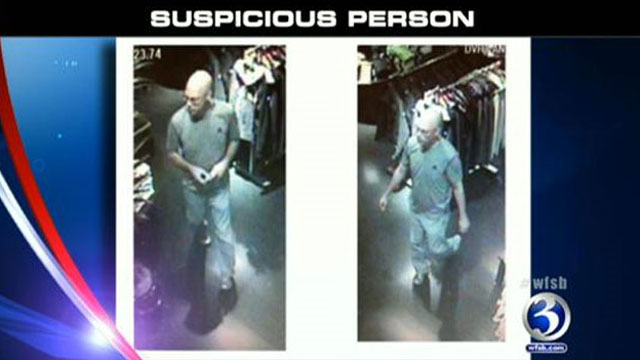 WATERFORD, CT (WFSB) -
A person of interest has been identified in the Crystal Mall voyeurism case and police are thanking media outlets for getting the information to the public.
According to Waterford police, a man placed a digital camera on his shoe and was sticking it under dressing room doors to video tape women changing at the Crystal Mall. It happened at least twice within the last month, on Sept. 8 and 29.
The suspect is described as 6' tall white man, who is bald and weighs about 200 pounds.

Waterford police said on its Facebook page that a person of interest has been identified. However, the department did comment on when an arrest could be made.
"This man needs to be taken off the street, ASAP," said one commenter on the police's Facebook wall.
Shoppers were disturbed Friday to hear the person of interest was still on the loose.

"I think it's creepy," said shopper Linda. "And where there is one, there's probably more... but I'm glad they have somebody."
Anyone with information about the incident is asked to call police at 860-447-1456.
Copyright 2012 WFSB (Meredith Corporation). All rights reserved.