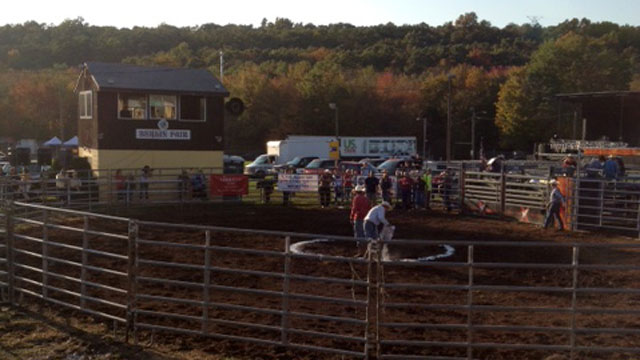 © The arena at the Berlin Fairgrounds before a bull hit a woman Friday evening.
BERLIN, CT (WFSB) -
A woman was brought to an area hospital Friday evening by Life Star after being injured by a bull at the Berlin Fairgrounds.
It all happened during a dangerous game at the fair called the Ring of Fire. Seven fair-goers packed into a small circle and a bull charges them. The last one standing wins a cash prize. In this case, the winner was also the victim.
Friends told Eyewitness news that the woman's name is Tina. According to Life Star dispatch, the 31-year-old woman was kicked in the chest by the bull. She lost consciousness temporarily and suffered lacerations.
Photos: Woman injured after stepping into ring with bull for cash prize

Kim Halquist was with Tina when she made her way to the ring with her fiance and watched the whole thing happen. Halquist said they didn't know what they were getting themselves into and didn't anticipate a live bull to come out.
The Lions Club has been running the Berlin Fair for decades. Officials said this is the second year Extreme Bull Riding has put on a show there. But this was the first time they were introduced the Ring of Fire.
Officials said all contestants had to sign a waiver before getting into the ring with the bull.

Tina is expected to be OK and ended up winning the cash prize of $100. The Lions Club told Eyewitness News that the Ring of Fire is done for the remainder of the fair.

Copyright 2012 WFSB (Meredith Corporation). All rights reserved.