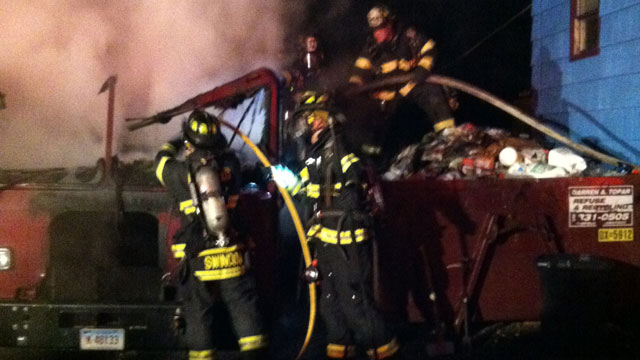 FAIRFIELD, CT (WFSB) -
A truck fire was quickly knocked down by firefighters early Monday morning after it was noticed by drivers traveling on the highway in Fairfield.

Firefighters were called to area of Commerce Drive and Webster Road around 3:45 a.m. for a truck fire. The fire was reported by passing motorists, who could see it from Interstate 95.
When firefighters arrived, they found a garage truck on fire and it was near a full dumpster and a three-story building. The fire was knocked down in minutes and firefighters prevented it from spreading to any other structures.

No one was injured during the fire.
"Early notification by passing motorists, immediate evacuation by building occupants and the prompt and professional actions of Fairfield's firefighters averted what could have been a tragedy," said Christopher Tracy of Fairfield Fire Department.
The cause of the fire is under investigation by the Fairfield Fire Marshal's Office.

Copyright 2012 WFSB (Meredith Corporation). All rights reserved.