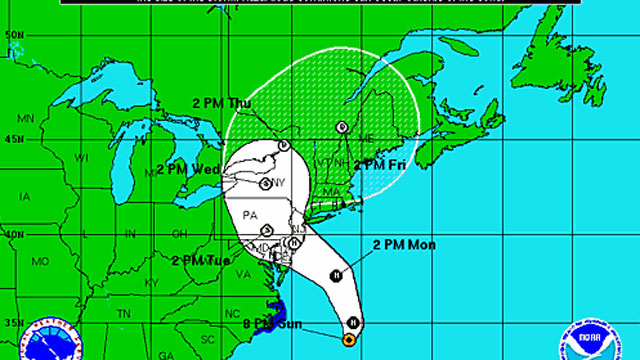 ROCKY HILL, CT (WFSB) -
Sandy, now about 500 miles south of Connecticut is still a hurricane and still will take a path that will have an immense impact on Connecticut as it makes landfall somewhere on the southern New Jersey shore.
Wind will be everyone's problem, with peak winds expected tomorrow afternoon and tomorrow night. Sustained at 30 to 50 mph, the wind will gust between 60 and 80 mph at times, especially on hilltops and ridgelines, in between city buildings and along the shoreline. Trees and branches will come down and power outages are a sure bet statewide.
Coastal flooding is the other big problem, thanks to Sandy. It could be a catastrophic problem for our shoreline communities, with tidal surges expected to reach as high as 11 feet with waves up to 5 feet above that water rise, rushing water onto beaches, low-lying neighborhoods and up into rivers and tributaries that normally flow out into the sound.
Of particular concern are the high tides late Monday morning, just before midnight Monday night and around noon Tuesday.
High wind warnings, flood watches and coastal flood warnings are in effect for most of the day Monday.
Copyright 2012 WFSB (Meredith Corporation). All rights reserved.