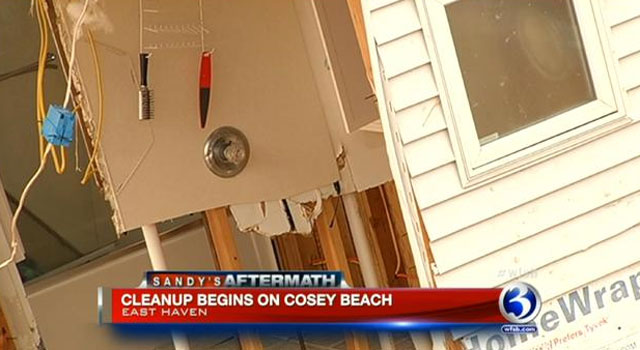 EAST HAVEN, CT (WFSB) -
Residents of Cosey Beach in East Haven continued cleanup efforts Wednesday morning after Sandy damaged homes and property that was still under construction from Hurricane Irene.
Many personal and household items were stuck in mud or scattered around in reeds near the water after homes were devastated by the storm.

Homeowners continue to rebuild just a few days after the storm and on Wednesday, contractors lined the streets of Cosey Beach.
However, the destruction was not as bad as Hurricane Irene, which left 25 homes completely destroyed.
Sandy left more than 50 homes with enough damage that repairs will be needed before homeowners can return, however that number is expected to rise. Five houses are a total loss.
"I'm thrilled. Because, this is a lot better than I expected," said one Cosey Beach resident, who did not want to be identified. "After the last storm, I said if it happens again I'm leaving. But, we were lucky this time so we're staying for now."
Many of the homes that were rebuilt on stilts are still standing after Sandy. Some of the newer homes had metal shutters over the windows that seem to weather well through the storm.

Copyright 2012 WFSB (Meredith Corporation). All rights reserved.