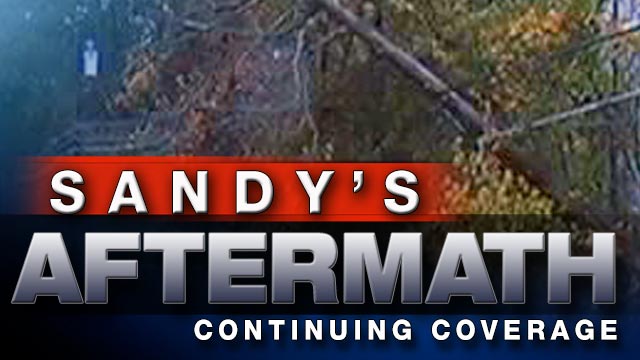 HARTFORD, CT (WFSB) -
The Department of Public Health announced Wednesday that 82 small public drinking water systems in the state are now under a boil water advisory as a result of Hurricane Sandy.
"Although Hurricane Sandy ravaged parts of the state, we are very fortunate that the majority of Connecticut's public drinking water systems were not affected," said DPH Commissioner Dr. Jewel Mullen. "Our state's public drinking water supplies are well-protected from sources of contamination with measures that include laws prohibiting sewage treatment plants from being located upstream of a drinking water supply reservoir. We will continue to monitor Connecticut's drinking water and work with those systems under a boil water advisory to help get them back online."
Officials with the DPH said public drinking water systems that are experiencing power outages and don't have a backup power source are issuing the boil water advisories as a precautionary measure.
DPH officials said they were monitoring those systems and are working to contact other small public drinking water systems to determine their status and offer assistance as needed.
Affected public water systems will notify customers if a boil water advisory is announced.
Public drinking water systems under the boil water advisory are:
PERRY HILL ESTATES APARTMENTS INC., ASHFORD
BIRCH HILLS CONDOMINIUMS, ASHFORD
WOODLAWN APARTMENTS, LLC, ASHFORD
MAR-LEA PARK APTS, ASHFORD
FOXRIDGE APARTMENTS-WELL 1, BARKHAMSTED
WALLENS HILL APARTMENTS, BARKHAMSTED
FOXRIDGE APARTMENTS-WELL 2, BARKHAMSTED
ELMWOOD COURT LLC, BETHEL
CEDARBROOK OWNERS, INC., BROOKFIELD
WHISCONIER VILLAGE ASSOCIATION, INC., BROOKFIELD
WOODCREEK VILLAGE CONDOMINIUM ASSN, INC, BROOKFIELD
39 HOP BROOK RD - APT COMPLEX, BROOKFIELD
DENLAR APARTMENTS, CHESTER
EVERGREEN TRAILER PARK - SYSTEM #1, CLINTON
EVERGREEN TRAILER PARK - SYSTEM #2, CLINTON
EVERGREEN TRAILER PARK - SYSTEM #3, CLINTON
EVERGREEN TRAILER PARK - SYSTEM #4, CLINTON
COLCHESTER COURTYARDS, COLCHESTER
AQUA VISTA ASSOC, INC - UPPER SYSTEM, DANBURY
AQUA VISTA ASSOC, INC - LOWER SYSTEM, DANBURY
RIDGEWOOD HILLS ASSOCIATION, SYSTEM #1, DEEP RIVER
RIDGEWOOD HILLS ASSOCIATION, SYSTEM #2, DEEP RIVER
RIDGEWOOD HILLS ASSOCIATION, SYSTEM #3, DEEP RIVER
RIDGEWOOD HILLS ASSOCIATION, SYSTEM #4, DEEP RIVER
CHELSEA COMMON CONDOMINIUM ASSOCIATION, EAST GRANBY
MEADOWBROOK APARTMENTS, LLC, ELLINGTON
HERITAGE COVE CONDOMINIUMS, ESSEX
NEIPSIC WOODS WATER ASSOCIATION, GLASTONBURY
ROGERS MOBILE HOME PARK, GROTON
QUONNIPAUG HILLS - MAIN SYSTEM, GUILFORD
QUONNIPAUG HILLS - SECTION I, GUILFORD
HEBRON ARMS APARTMENTS, HEBRON
ASH WATER COMPANY, LLC, LEDYARD
ROUND HILL LLC - WELL# 1, LISBON
ROUND HILL LLC - WELL# 2, LISBON
WHITE OAK CONDOMINIUMS, MANSFIELD
KNOLLWOOD ACRES APARTMENTS, MANSFIELD
ORCHARD ACRES ASSOCIATION, MANSFIELD
HUNTING LODGE APARTMENTS, MANSFIELD
CLUB HOUSE APARTMENTS, MANSFIELD
WOODS EDGE APARTMENTS, LLC, MANSFIELD
MAPLEWOOD APARTMENTS, MANSFIELD
RENWOOD CONDOMINIUMS, MANSFIELD
MANSFIELD VILLAGE, LLC, MANSFIELD
LAUREL HILL WATER ASSOCIATION, MARLBOROUGH
DEER RUN SUPPLY, MONTVILLE
OAKRIDGE GARDENS, LLC, MONTVILLE
MEADOWS APARTMENTS, MONTVILLE
MOUNTVIEW APARTMENTS, MONTVILLE
FOX LAUREL MOBILE HOME PARK, LLC, MONTVILLE
ST. THOMAS MORE SCHOOL-THE COVE, MONTVILLE
IDLEVIEW MOBILE HOME PARK, NAUGATUCK
KNOLLCREST TAX DISTRICT, NEW FAIRFIELD
INTERLAKEN WATER COMPANY, NEW FAIRFIELD
CANDLE HILL MHP (SOUTH), NEW MILFORD
LILLINONAH PARK ESTATES HOMEOWNERS ASSN, NEW MILFORD
CANDLE HILL MHP (NORTH), NEW MILFORD
BEDROCK WATER COMPANY, NEW MILFORD
MEADOWBROOK TERRACE MOBILE HOME PARK, NEWTOWN
CEDARHURST ASSOCIATION, NEWTOWN
MILE CREEK APARTMENTS, OLD LYME
LYME REGIS, INC., OLD LYME
ARNIO DRIVE LLC, PLAINFIELD
AQUARION WATER CO OF CT-RIDGEFIELD LAKES, RIDGEFIELD
BROOKVIEW WATER COMPANY, RIDGEFIELD
SALEM MANOR CONDOMINIUMS, SYSTEM #1, SALEM
CRYSTAL LAKE CONDOMINIUMS, SALEM
SALEM MANOR CONDOMINIUMS, SYSTEM #2, SALEM
BAXTER FARMS COMMUNITY WATER ASSOC, TOLLAND
WOODLAND SUMMIT COMMUNITY WATER ASSN, TOLLAND
WOODHAVEN APARTMENTS, WILLINGTON
WALDEN APARTMENTS, WILLINGTON
NORTH WILLINGTON VILLAGE CONDO ASSOC., WILLINGTON
To disinfect water, use one of the following methods:
Boil at a rolling boil for one minute. Make sure water is clear of floating pieces before boiling;
Add 8 drops of liquid chlorine bleach per gallon of clear water or 16 drops per gallon for cloudy water. Do NOT use bleach that has perfumes or ingredients other than sodium hypochlorite as it may be toxic;
Add water purification tablets according to directions on the package.
Mix completely and let water stand 30 minutes before using.
For a complete, up-to-date list, check out the DPH website by going to: http://www.ct.gov/dph/cwp/view.asp?a=3115&q=513298
Copyright 2012 WFSB (Meredith Corporation). All rights reserved.