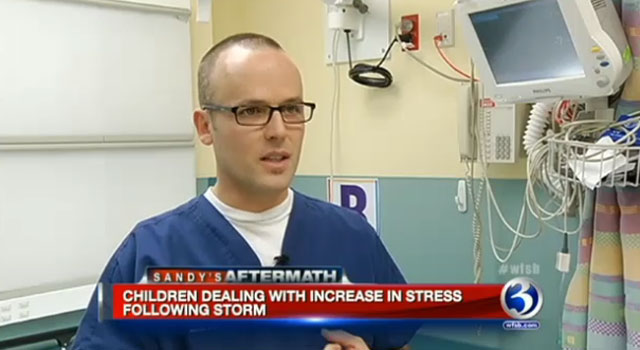 HARTFORD, CT (WFSB) -
Doctors at Connecticut Children's Medical Center in Hartford are offering tips to help children deal with he stress of Hurricane Sandy.
A child's well-being can comprised following a disaster, however it can be fixed by parents with the right support. Psychological first aid consists of three main components which are listen, protect and connect. The listen component encourages parents to talk to their kids about the disaster.
"They may not understand and they may think just because they see a house that's ruined on television that their house is next," said Dr. Steven Rogers.
Rogers said the important part is making children fell safe and comfortable.
"Protecting them from overexposure to the disaster so meaning the intense media coverage certainly is good and informative to the parents, but maybe can be more stressful for kids," Rogers said. "You have to be honest and say 'yes of course this could happen again but look how well we did.'"
Rogers said children may not sleep well and lose their appetite, but those effects will go away in a few days or week. Parents must get children back into their normal routine.
"I think one of the big important things is that parents need to slow down once in a while with their kids, especially during an extreme time of stress, and just spend some time with them," he said. "We're all stressed out, it'll probably help us as well."
Copyright 2012 WFSB (Meredith Corporation). All rights reserved.