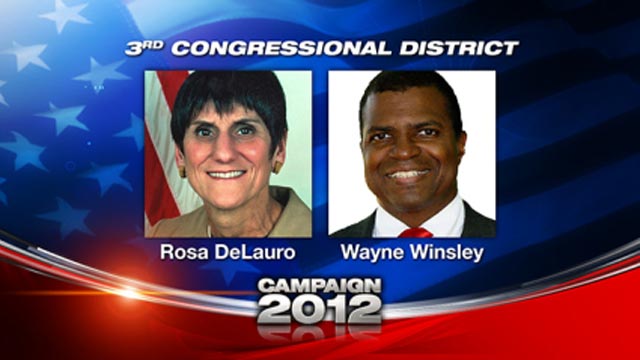 HARTFORD, CT (WFSB/AP) -
Democratic Congresswoman Rosa DeLauro has defeated Republican Wayne Winsley in a race that featured sharp differences over the health care law and guns rights.
"Having the trust and support of Third District voters is an honor I take very seriously and I am proud they have chosen me once again as their representative to Congress," DeLauro said in a statement. "We are at a critical time in America. But our highest priority must be to rebuild our economy, strengthen the middle class and bringing the voices of the people I represent to Washington."
DeLauro, first elected to the U.S. House in 1990, has long enjoyed a safe seat in Connecticut's heavily Democratic 3rd Congressional District. According to her website, DeLauro is a ranking member on the Labor, Health, Human Services, and Education Appropriations Subcommittee.

Winsley, a former private investigator and talk show host, argued the 2010 health care reform bill signed by President Barack Obama erodes freedom with its mandate requiring health insurance.

DeLauro championed the law, saying it provides new consumer protections and will ensure that Americans have access to quality, affordable health care while reducing long-term health care costs.

She favors gun control measures, including a ban on the importation of large capacity ammunition clips. Winsley strongly favors gun rights.
Connecticut's 3rd Congressional District consists of 25 cities and towns from Fairfield, Middlesex, and New Haven counties including Beacon Falls, Middletown and Waterbury.
Copyright 2012 WFSB (Meredith Corporation). The Associated Press contributed to this report. All rights reserved.