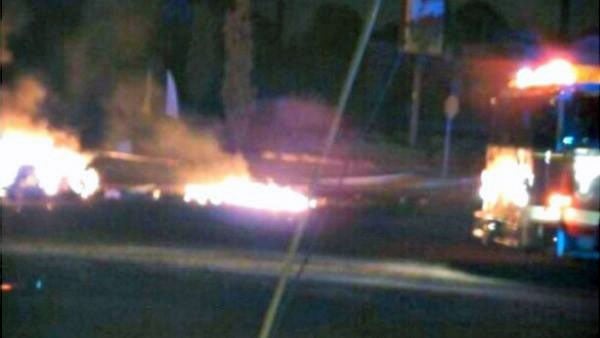 Police helicopter on fire after crash
ATLANTA (CBS46) -
The National Transportation Safety Board has released the preliminary cause of the helicopter crash that killed two Atlanta police officers on Nov. 3.
According to the report, examination of the accident site showed the helicopter collided with wires at the top of a 42-foot-high power pole.
The pilot, Officer Richard J. Halford, 48, of Lithia Springs, had been with the Atlanta Police Department since 1986. Tactical Flight Officer Shawn A. Smiley, 40, of Lithonia had been with the department since 2010.
Police said Halford and Smiley were in the chopper searching for a missing 9-year-old boy, who was later found safe.
The helicopter crashed at about 10:45 p.m. near Martin Luther King Jr. Drive SW and Hamilton E. Holmes Drive NW, not far from a CVS Pharmacy store. After the crash, the helicopter burst into flames.

Signatures consistent with wire contact were found on the tail boom and on one main rotor blade.
The report stated that neither officer made a distress call before colliding with the wires and the sky was clear and winds were calm, with visibility 10 statute miles or greater.
Copyright 2012 WGCL-TV (Meredith Corporation). All rights reserved.