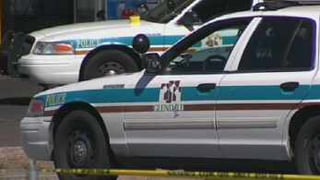 © CBS 5
GLENDALE, AZ (CBS5) -
A man impersonating a police officer stopped a motorist and punched her in the face when she refused to leave her vehicle, Glendale police said.
The suspect was wearing a soft cloth uniform and driving a Crown Vic when he signaled for the woman to stop on Oct. 7.
He approached her and when she wouldn't get our of her car, he leaned in and struck her in the face, Glendale police spokesman Sgt. Brent Coombs said. It's not known if any of the woman's personal belongings were taken. The cop impersonator fled the scene.
Coombs said police believe it was an isolated case.
A partial description of the suspect indicates he is 6'3" tall and weighs about 200 pounds.
Police said they have been unable to develop any leads.
Copyright 2012 CBS 5 (Meredith Corporation). All rights reserved.