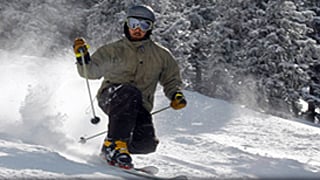 © CBS 5
FLAGSTAFF, AZ (AP) -
The Hopi Tribe is taking another shot at halting snowmaking at a northern Arizona ski resort.
The tribe sued federal officials this week to protect a threatened plant that it says will be harmed by snow made with treated wastewater. The San Francisco Peaks ragwort is found only on the mountain at elevations above 10,900 feet.
Arizona Snowbowl general manager J.R. Murray tells the Arizona Daily Sun that snowmaking will be operational by Christmas, if needed.
The Hopi Tribe wants a federal court to step in and block those plans.
The Coconino National Forest declined to comment on the lawsuit but is reviewing any potential impacts to the plant.
Courts have rejected other lawsuits to block snowmaking that were based on religious freedom and health impacts of treated wastewater.
Copyright 2012 Associated Press. All rights reserved.