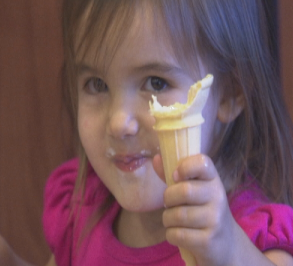 LAVEEN, AZ (CBS5) -
A Valley ice cream shop has created some unusual flavors for Thanksgiving.
Are you ready for sweet potato ice cream? What about corn ice cream or cranberry ice cream?
And if you're really feeling adventurous, you can order a scoop of turkey ice cream.
"It's the only food-flavored ice cream I've ever had," said Ashley Steele. "I love it and my kids love it."
All of the holiday creations are handmade at a small, family-owned ice cream shop in the West Valley called Scooptacular, which is located at 5150 W. Baseline Rd., Suite 102 in Laveen.
The ice cream shop has been around for almost three years and is known for its unique, handcrafted creations.
Owner Nindi Wadhwa said they are always trying to make something different and this year they decided to create an entire Thanksgiving feast made of ice cream.
"We just wanted to have some fun with it," said Wadhwa. "If you don't want to cook on Thanksgiving Day you can come here and get it all in ice cream."
Copyright 2012 CBS 5 (Meredith Corporation). All rights reserved.