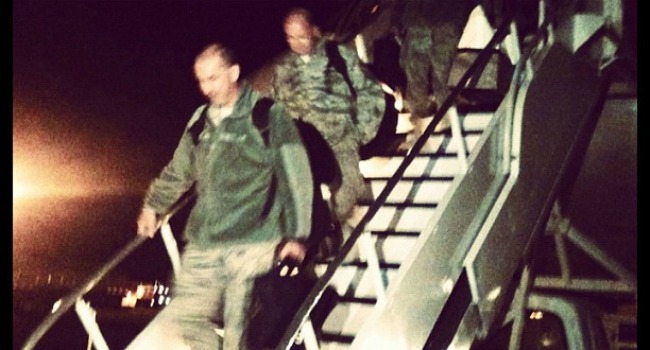 EAST GRANBY, CT (WFSB) -
It's going to be one amazing Thanksgiving for the 80 men and women of the Connecticut National Guard.
The 103rd Air Control Squadron returned from Afghanistan around 10 p.m. Tuesday and were met by a huge crowd of friends and family at the Bradley Air National Guard Base in East Granby.
There were many hugs and tears all around and they were very infectious.
The first person out of that plane was LT. Col Bill Neri, who went straight to his wife and two boys who had counted each day their father was gone. That total was 194 grueling days.
Neri led his men and women out of the plane tonight as cheers erupted all the way across the tarmac. It took less than a second for his family to spot him.
"The second that I saw the first tall guy step downstairs," said Jack Neri, who is Lt. Col Neri's son. "You don't know what it's like and when you know what it's like, it's amazing. I just love him so much."
And Bill Neri was even happier to be home.
"It was a long time, but I'm glad to be here," he said "The guys did a great job overseas and it's just good to be home."
This was the fourth deployment to southwest Asia for the unit.
Copyright 2012 WFSB (Meredith Corporation). All rights reserved.