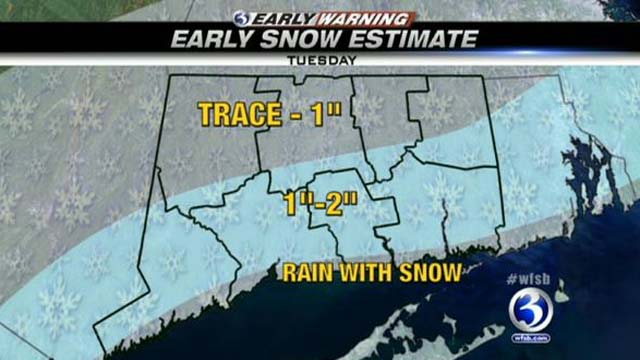 For Tuesday afternoon/evening
ROCKY HILL, CT (WFSB) -
Clouds will continue to increase and thicken throughout the day Monday in advance of some snow that will affect the area by Tuesday afternoon and evening.
Early Warning Weather meteorologist Scot Haney said Tuesday will start off cloudy cold and just plain dreary. As the storm, which is currently in the Deep South, makes its way up the coast, light snow is expected to break out across Connecticut from the south and west. By early afternoon, Haney said, the flakes will fly state-wide.
Haney said there is a chance the snow could mix in with some rain along the immediate shore. The storm will be centered pretty far to our south, Haney said, so northern Connecticut will see the least amount of snow with this storm - anywhere from a trace amount up to an inch.
Central Connecticut could pick up close to 2 inches of snow and the shoreline will pick up very little.
Haney said high temperatures will climb into the upper 30s Tuesday, but as the snow begins to fall, so will the mercury.
The snow is expected to taper off Tuesday night into Wednesday morning.
Copyright 2012 WFSB (Meredith Corporation). All rights reserved.