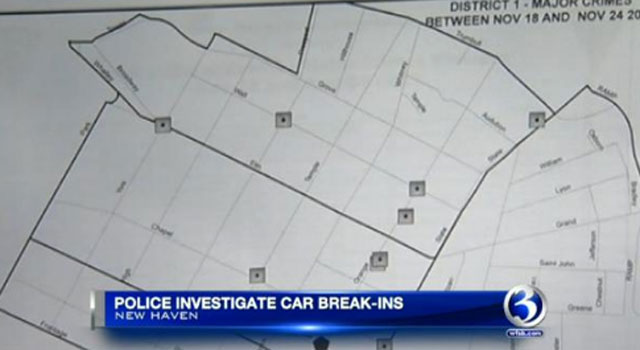 NEW HAVEN, CT (WFSB) -
A rash of car break-ins has caused the New Haven Police Department to increase foot patrols in the hard-hit downtown area.

According to police, there have been about 12 break-ins in the Wooster Square area from Nov. 18-24.
City residents area being asked to take precautions such as locking their doors and taking all items of value out of their vehicles.
"People still look for those tell tale rings that are left on windshield from suction cups," said New Haven Police Officer David Hartman.
Police also pointing out don't leave any of the gifts you're buying for the holidays in plain view.
"The car is going to be locked and I'll put it under the seat or I'll put it in the tailgate and close the cover," Hartman said.
If people are at the mall or another store and dropping off gifts, so you can go buy more, police said lock the presents in the trunk.
The break-ins are under investigation by the New Haven Police Department and anyone with information is asked to call police at 203-946-6316 or the New Haven Police "Tips Line" at 203-946-2875.
Copyright 2012 WFSB (Meredith Corporation). All rights reserved