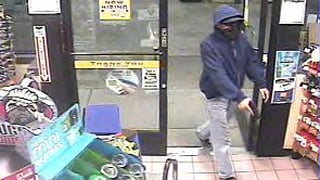 (Source: Glendale Police Department) The bandit is targeting Valero and 7-Eleven stores.
GLENDALE, AZ (CBS5) -
Glendale police are looking for a man believed to be behind four armed robberies since March.
He is targeting Valero and 7-Eleven stores, according to Glendale police spokesman Sgt. Brent Coombs.
The most recent robbery occurred Nov. 17.
Police described the suspect as 5'9'' to 6' tall with a thin build. He has possible brown hair. He always wears a bandana or cloth mask across his face, along with sunglasses and a hat or hooded sweatshirt.
In every holdup, the suspect enters the business either late in the evening or in the very early morning hours, Coombs said. He will approach the clerk, point a semi-auto handgun directly at them, demand the money in all of the cash drawers and then have the employee lie on the ground until after he leaves, Coombs said.
The suspect arrives and departs on foot.
People with any information are asked to call Silent Witness at 480-WITNESS or call the Glendale Police Department at 623-930-3000.
Copyright 2012 CBS 5 (Meredith Corporation). All rights reserved.