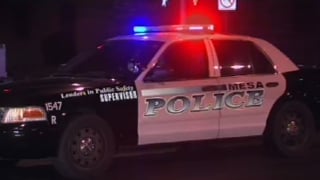 © CBS 5
MESA, AZ (CBS5) -
Police are looking for two men and a woman who they believe assaulted a woman with a baseball bat in Mesa early Thursday morning.
Mesa police said the victim called police and reported that two Native American men and one Native American woman, all of whom she didn't know, came to her house on East Bayberry and asked for her brother-in-law Adam Fredrick, who was not there.
According to police, the suspects reportedly forced their way into the house and hit the victim with the bat as well as breaking a sliding glass door. Police said the victim tried to hide in the bedroom and that door was also broken.
The victim had cuts and bruises and was taken to the hospital. She is expected to be OK.
Anyone with information is asked to call 911.
Copyright 2012 CBS 5 (Meredith Corporation). All rights reserved.