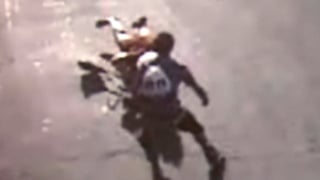 (Source: Silent Witness) Would-be purse snatcher
Silent Witness needs the public's help solving an attempted purse snatching at a Fry's store in Phoenix.
Police ask anyone with information about the Sept. 9 case to call Silent Witness 480-WITNESS (480 948-6377).
The suspect confronted the 71-year-old victim as she was approaching the Fry's store at 850 E. Hatcher Road, according to Silent Witness coordinator Sgt. Darren Burch.
While the suspect was trying to take the victim's purse, the woman fell to the ground, suffering abrasions to her arm and knee, Burch said. She was able to hang on to her purse.
Her attacker wasn't able to yank her purse free and ran from the scene. Bystanders ran to aid the victim.
The suspect is described as between 18 to 25 years old. He is between 5'5" to 5'8" tall and weighs between 120 to 160 pounds. He has a thin build and was wearing a backpack.
Copyright 2012 CBS 5 (Meredith Corporation). All rights reserved.