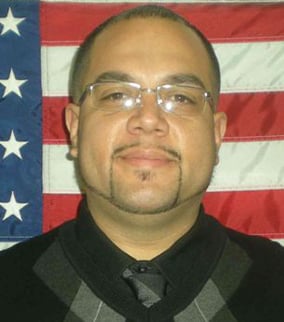 (Source: San Diego County Crime Stoppers) Photo of ID theft suspect sought by California authorities.
SAN DIEGO (CBS5) -
A suspect wanted by California authorities on charges of identity theft and child endangerment may be in the Phoenix area, police said.
San Diego County Crime Stoppers and investigators from the National City Police Department are asking for the public's help in locating him.
Detectives said the suspect stole and assumed the identity of Benjamin McClarnon and worked under this name at Wheels for Rent in National City and Cox Cable in San Diego.
The suspect slowly took over the complete identity of McClarnon, investigators said. The suspect was able to obtain a driver's license and purchase everything from a truck to diamonds under McClarnon's name.
In a recent case, police said the suspect used his girlfriend's 10-year-old and 6-year-old children to steal merchandise from a store while he waited in the car. The children were apprehended but the suspect drove off and left the kids behind.
The suspect is described as a Hispanic male. He is 6' tall and weighs between 250 to 290 pounds. He has black hair, brown eyes, a shaved head and an earring in his right ear. He may have a goatee.
People with any information about his identity and/or location are asked to call National City Police Department investigator Tom Di Zinno in California at 619-336-4473, the Crime Stoppers anonymous tip line at 888-580-8477 or your local law enforcement agency.
Copyright 2012 CBS 5 (Meredith Corporation). All rights reserved.