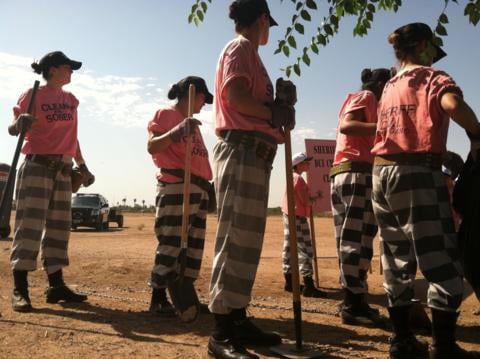 MCSO's female chain gang
Motorists will see Sheriff Joe Arpaio's female chain gang in the area of 40th Street and McDowell Road on Tuesday morning warning about the dangers of drunken driving.
The month-long initiative kicks off at 8 a.m.
"These chain gangs are a public reminder that there are serious consequences to those who make the poor decision of combining alcohol with getting behind the wheel of an automobile," Arpaio said.
Wearing their pink DUI inmate uniforms and working all day picking up trash and performing other community service tasks, Arpaio will have the chain gangs out in high traffic areas to maximize the DUI message.
Arpaio began his female chain gang in 1996, two years after he formed a male chain gang.
Inmates who are housed in Tent City are placed on the chain gangs as a result of breaking a jailhouse rules and regulations. Inmates then must volunteer to work the chain for 30 days to get out of lockdown and back into Tent city.
"The DUI chain is a little different," Arpaio said. "Its primary mission is to show people in the community where they might end up if their drink and drive."
Copyright 2012 CBS 5(Meredith Corporation). All rights reserved.