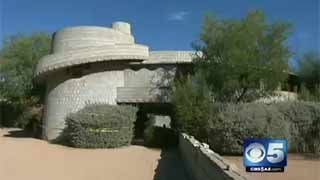 Frank Lloyd Wright-designed Phoenix home
A Frank Lloyd Wright-designed Phoenix home that was slated for demolition will remain up for sale a while longer.
Broker Robert Joffe said the sale period for the 1950s home will be extended to Dec. 19. That's when the City Council is now expected to consider whether to approve an historic status designation. That would prevent demotion for three years.
City officials said the council is being asked to postpone action to Dec. 19 because city staff failed to update a sign providing public notice for action that was scheduled for Wednesday.
Joffe said a second possible sale of the property fell through Saturday but that he remains hopeful one can be arranged by Dec. 19.
Developers who owned the property had planned to take it off the market Tuesday.
Copyright 2012Associated Press. All rights reserved.