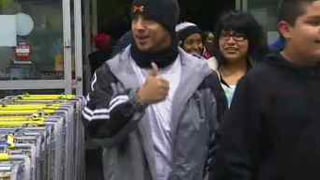 PHOENIX (CBS5) -
Black Friday might be over, but the holiday shopping season is in full swing and with that comes safety risks shoppers need to be aware of.
CBS 5 News enlisted the help of venue safety expert Steven Adelman to show shoppers how to stay safe.
Adelman said it's important to be aware of areas that are poorly lit with tall bushes someone could hide between.
"The plantings are very attractive, but they create a hazard where somebody could basically pop out of the bushes and assault someone coming out of the restaurant after happy hour," Adelman said.
He also said it's a good idea to shop near areas with security cameras, or those that have security guards nearby.
"Even in areas that are dark there can still be video cameras, there can still be floor lights, there can be lights hung from areas even where there is construction so that more confined spaces can still feel safe and provide no safe harbor for somebody who's intent to do harm," he said.
Copyright 2012 CBS 5 (Meredith Corporation). All rights reserved.