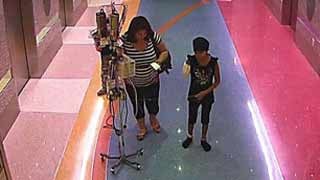 Surveillance cameras captured Emily being taken by her mother.
PHOENIX (CBS5) -
The father of a young girl with leukemia, who left Phoenix Children's Hospital early with her mother, says they are fine and in Mexico.
Luis Bracamontes told the Spanish language network, Telemundo, that he and his wife, Norma, took their terminally-ill daughter Emily out of the hospital because they claim the treatment they were receiving was bad.
The Bracamontes said in the interview that they were afraid Emily's life was in danger.
Luis Bracamontes and the mother said Emily is doing fine.
They also said that Phoenix Children's Hospital told them their daughter came to the hospital with an arm infection that just got worse.
The Bracamontes said Emily actually got the infection at the hospital.
Phoenix Children's Hospital is not commenting on the case, citing HIPPA law.
Phoenix police said they may press charges in the case.
Copyright 2012 CBS 5 (Meredith Corporation). All rights reserved.