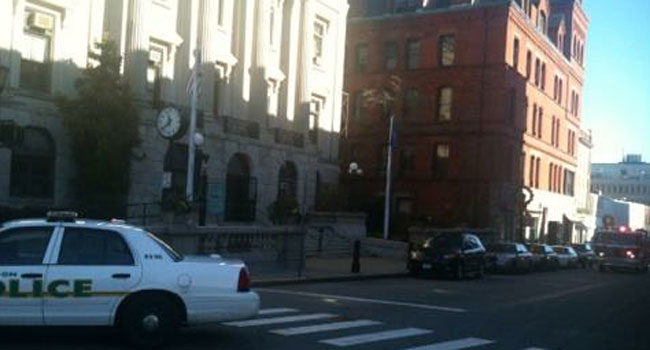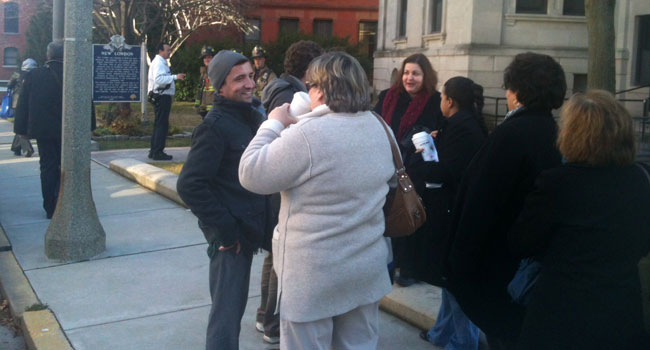 © City employees waited outside while firefighters investigated an odor at New London City Hall Thursday.
NEW LONDON, CT (WFSB) -
A hazmat situation reported at New London City Hall on Thursday morning has been cleared, according to emergency officials.

Few details about the incident have been released, but fire officials said people inside the building started becoming ill.
Emergency crews said they think there was some sort of plumbing/sewage leak issue, which caused a strong odor.
They believe that's what was causing people to become ill.
Employees told Eyewitness News that they had been smelling the odor for a few days.
"We couldn't tell if it smelled like gas or fumes, a dead animal in the vent or we couldn't," said Dawn Currier of New London. "It went on for too long and after a couple of days, it was too bad to be something that was just passing."

After investigating, emergency officials sounded the all clear and everyone that was evacuated was allowed to go back inside the building.
Anyone who was feeling ill after the odor refused treatment. However, city officials said they could go home if they wanted to.

City officials said the problem is being addressed.

Copyright 2012 WFSB (Meredith Corporation). All rights reserved.