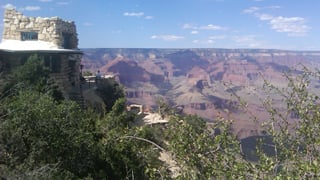 © CBS 5
GRAND CANYON NATIONAL PARK, AZ (CBS5) -
A body spotted by Grand Canyon National Park's helicopter pilot was recovered Saturday from below the South Rim.
The pilot was flying a routine mission when he saw the body located below the Abyss Overlook on Hermit Road, according to Shannan Marcak, the parks' public affairs specialist.
Two park rangers were flown in to begin their investigations and to prepare the body for transport.
The body is that of a male, whose identity and age are unknown, Marcak said.
An investigation into the incident is being conducted by the National Park Service in collaboration with the Coconino County Medical Examiner.
Copyright 2012 CBS 5 (Meredith Corporation). All rights reserved.