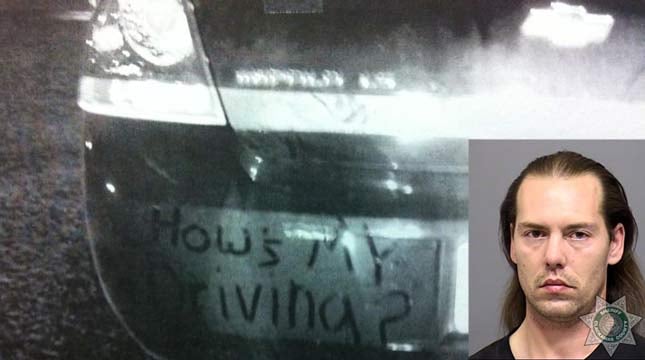 Photos: Oregon State Police
GLADSTONE, OR (KPTV) -
A police trooper answered the question scribbled on the bumper of a Milwaukie man's car going upward of 100 mph.
The question: "How's my driving?"
The answer: "You're under arrest."
Oregon State Police said that question was written in the dirt on the rear bumper of a Chevrolet Impala driven by Lyle Brooks, 33, on Interstate 205 through Oregon City on Dec. 5.
Investigators said the car passed an OSP Fish & Wildlife trooper on the right going between 90 and 100 mph at 7:30 p.m.
The car got off the highway in Gladstone, according to police, and was pulled over by the trooper.
Brooks was arrested on the charge of DUII. He was booked into jail and released the next day. He is scheduled to be in court Jan. 7.
Copyright 2012 KPTV (Meredith Corporation). All rights reserved.