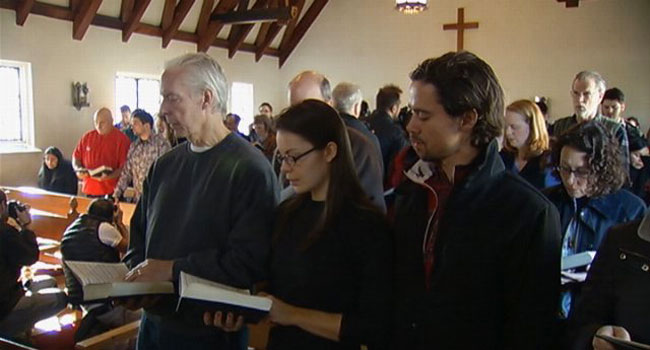 NEWTOWN, CT (WFSB) -
Many people in Newtown and the surrounding area are comforting themselves by turning to their spiritual side.
"When such a horrendous thing happens, it's important for people to put it in the context of their faith, if they have a faith," said Father Michael Moore of the St. John's Episcopal Church in Newtown.

A prayer vigil at St. John's Episcopal Church was widely attended Saturday afternoon. Many people are turning to faith after 20-year-old Adam Lanza entered Sandy Hook Elementary School in Newtown around 9:30 a.m. on Friday where he shot and kill 20 children and six adults.
"It's the only place to turn to love," said one unidentified female parishioner Saturday.
Songs, prayers and hope were all part of the afternoon's vigil, which was one of the many for the victims of Friday school shooting.
Now as people try to make sense of what they can see, many are turning to what they can't see.
"If we put something like this in the context of our faith," Moore said. "It will enable us to go on and face the rest of our life. And heal."

Copyright 2012 WFSB (Meredith Corporation). All rights reserved.