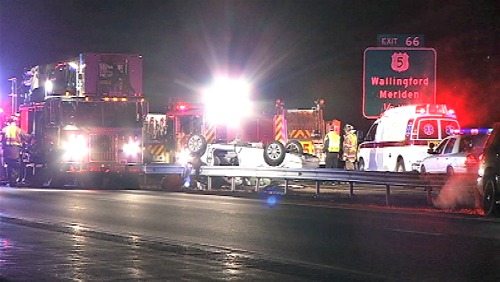 MERIDEN, CT (WFSB) -
Connecticut State Police said two people were killed in a crash on Route 15 in Meriden early Wednesday morning.
Connecticut State Police said a vehicle being driven by Patrick Cimato, 37, of Lisbon Falls, ME, was heading south on Route 15 in Meriden in the area of exit 66 when it was struck head-on by a vehicle driving north in the southbound lanes.
State police said that vehicle was being driven by Michael Heeks, 22, of Mansfield.
Police said Cimato was killed as a result of the crash, and two other people in that vehicle were seriously injured.
State police said Heeks also died as a result of injuries he sustained in the crash.

The car being driven by Heeks came to a stop in the right shoulder of the road while the vehicle driven by Cimato flipped over and came to a stop on its roof in the center of the road.
Anyone that may have seen the crash is asked to call police.
The crash remains under investigation.

Copyright 2012 WFSB (Meredith Corporation). All rights reserved.