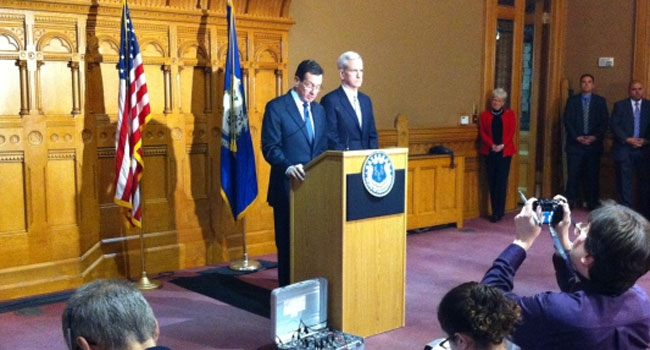 © The following photo was provided by the governor's office.
HARTFORD, CT (AP) -
Gov. Dannel P. Malloy has nominated his legal counsel, former state Sen. Andrew McDonald, to Connecticut's State Supreme Court.
Malloy said Thursday the 46-year-old McDonald will be the state's first openly gay appellate jurist.
Malloy officiated at McDonald's wedding after the state's highest court legalized gay marriage. As co-chairman of the General Assembly's Judiciary Committee, McDonald was a chief proponent of same-sex marriage and an earlier civil unions law.
McDonald, who lives in Stamford, is expected to replace Justice Lubbie Harper Jr., who has reached the mandatory retirement age for state judges.
A friend for 20 years, Malloy said McDonald is a thoughtful person who is "highly principled and ethical."
McDonald's nomination requires legislative confirmation.
Copyright 2012 The Associated Press. All rights reserved. This material may not be published, broadcast, rewritten or redistributed.