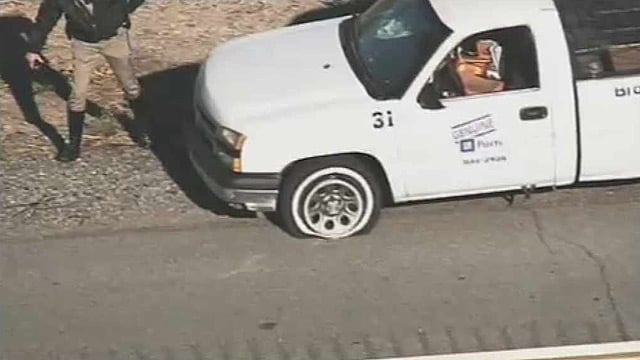 (Source: CBS 5 News) DPS officers used spiked strips to stop a speeding vehicle driven by a man believed to have suffered from a medical condition.
A driver believed to have suffered from a medical condition escaped serious injury after he involuntarily reached speeds in excess of 100 mph in his pickup truck Wednesday morning on Interstate 10.
Department of Public Safety officers used spike strips to help slow his vehicle to 30 mph before it stopped on I-10 near Verrado in the far southwest Valley just before noon, according to a DPS spokesman.
The driver was seen colliding with traffic barriers and motorcycle officers began to follow him.
He was given medical attention at the scene and taken to a hospital for evaluation, the spokesman said.
Officers said they didn't believe there was any criminal intent.
No other information was immediately available.
Copyright 2013 CBS 5 (KPHO Broadcasting Corporation). All rights reserved.