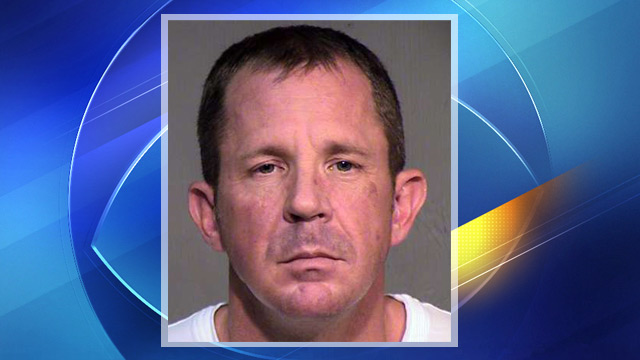 Christopher Wilson (Source: Maricopa County Sheriff's Office)
PHOENIX (CBS5) -
A former Phoenix police officer accused of having a sexual relationship with two minors went before a judge on Thursday.
Phoenix police chief Daniel Garcia said the alleged victims were 14- and 17-year-old Phoenix boys who knowingly entered into a relationship with former detective Christopher J. Wilson. He said Wilson met them through his job as a community outreach officer.
One of the victims requested that Wilson take an HIV test. A judge granted that request in court on Thursday.
Police said they learned of the relationships in August when the 14-year-old came forward.
The initial court paperwork alleges Wilson and the 17-year-old boy engaged in sexual contact at Wilson's residence and that all three engaged in sexual contact at the apartment of the 17-year-old.

Garcia said Wilson had been carrying on the relationship with the older teen for three months and with the 14-year-old for three weeks. Wilson told police investigators he knew the boys were underage, according to court document.
Wilson faces 10 counts of sexual conduct with a minor.
Wilson was a 13-year veteran of the force and resigned in lieu of being fired. He is not eligible for retirement, Garcia said.
Copyright 2013 CBS 5 (KPHO Broadcasting Corporation). All rights reserved.