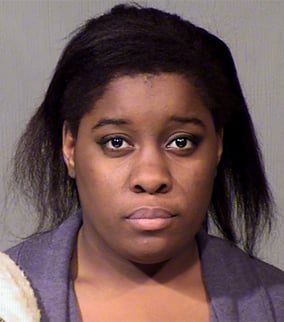 Tierra Littles (Source: Maricopa County Sheriff's Office)
PHOENIX (CBS5) -
A 2-year-old child was found home alone in a Phoenix apartment with the heat off and indoor temperatures in the mid 50s, police said.
The child's mother, Tierra Littles, 19, was arrested and booked into jail on one count of child abuse.
Officers arrived at the apartment at 4802 N. 19th Ave. just after 9 a.m. Tuesday and heard a child crying inside.
As they were attempting to go inside, Littles' ex-boyfriend arrived with a key, according to court documents. After entering the apartment, police found Marcus Littles in one of the bedrooms in his playpen, crying "at the top of his lungs" and wearing only a shirt, according to the probable cause statement.
Police said Marcus' skin was cold to the touch.
Tierra Littles told police she left for work around 7 a.m., leaving the child by himself with no food in this playpen, the court document stated.
Littles said she didn't think the heat was working so she didn't turn it on, according to the court document.
Copyright 2013 CBS 5 (KPHO Broadcasting Corporation). All rights reserved.