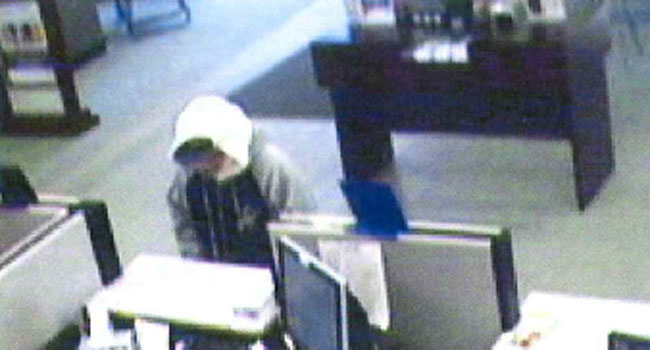 © The following photo of the suspect was provided by the Connecticut State Police.
Connecticut State Police are asking for the public's help to determine who robbed a bank in Dayville Thursday morning.
Troopers were called to Charter Oak Federal Credit Union on Hartford Pike about 9:40 a.m. where they conducted "extensive search of the area." However, a suspect was not located.
According to police, a man entered the credit union and handed a note, which stated this was a robbery. The man fled the bank with an undisclosed amount of money and headed westbound on Route 101 in a Hyundai with Florida license plates, police said.
The suspect is being described as a white man between the ages of 40 and 50 with a slim build and scruffy light colored facial hair.
During the robbery, police said he was wearing a dark jacket with gray sleeves with a "3" on the right sleeve, white gloves, white hooded sweatshirt, black pants and dark rimmed glasses.

The robbery is being investigating by Connecticut State Police. Anyone with any information is asked to call police at 860-779-4900. All calls will be kept confidential.
Copyright 2013 WFSB (Meredith Corporation). All rights reserved.