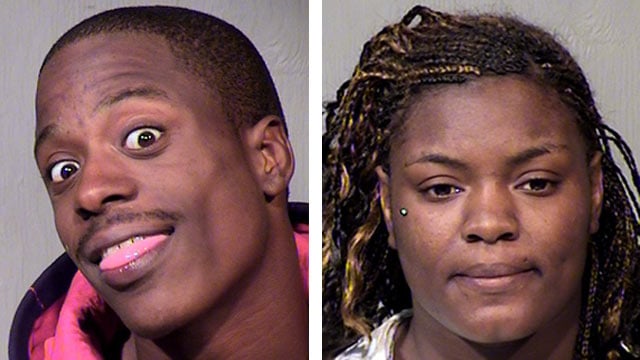 (Source: Maricopa County Sheriff's Office) Dwayne Phelps, left, and Jasmine Shanead Greer, were arrested in connection with the April armed robbery attempt and shooting of two people.
PHOENIX (CBS5) -
Phoenix police said they have arrested a man and a woman accomplice in connection with the attempted robbery and shooting of a woman and a good Samaritan in April.
Jasmine Shanead Greer, 21, was arrested Oct. 29 on suspicion of conspiracy to commit armed robbery, and Dwayne Phelps, 24, was arrested Thursday and booked into the Maricopa County 4th Avenue Jail on one count of attempted armed robbery and two counts of aggravated assault with a deadly weapon, according to officer James Holmes of the Phoenix Police Department.
Holmes said Greer and Phelps made arrangements to sell a car to a woman who was an acquaintance of Greer on April 18 near 48th Street and Virginia. Greer and Phelps are alleged to have tried to rob the victim and then shot the woman and Jerold Garrison, who had come to her aid.
Information provided by the woman led police to Greer. A lengthy investigation provided a lead that a person nicknamed "Squeaky" was the shooter, and that Greer and "Squeaky" were possibly related, leading them to identify Phelps as "Squeaky" on Dec. 31.
The woman identified Phelps from a photo lineup Thursday, and Phelps was taken into custody and booked into jail.
Copyright 2013 KPHO Broadcasting Corporation. All rights reserved.