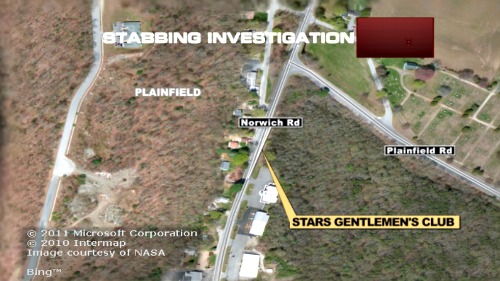 PLAINFIELD, CT (WFSB) -
Police in Plainfield are investigating after a man from Brooklyn was stabbed overnight.
It happened at the Stars Gentlemen's Club on Norwich Road around 2 a.m. Saturday morning.
Police said Edward Ruiz, 29, of Brooklyn, CT, was stabbed after being involved in a fight outside the club.
Ruiz was taken to Backus Hospital in Norwich, where he was treated for non-life-threatening injuries.
Police have not yet identified a suspect, but said they are searching for a male with a dark complexion.
Anyone with information is being asked to call Plainfield police.
Copyright 2013 WFSB (Meredith Corporation). All rights reserved.