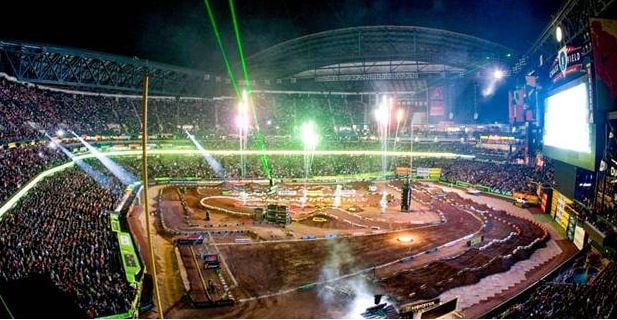 PHOENIX (CBS5) -
The vast green carpet that makes Chase Field the Valley's own version of a "Field of Dreams" has been turned to dirt.
And we're talking a lot of mother earth.
Early Tuesday morning, a stream of dump trucks began depositing their loads on the floor of the enormous downtown baseball stadium. Ultimately, 500 loads of dirt will have been dumped for a grand total of 1.5 million pounds of dirt.
Why?
All that dirt will propel the top motorcycle riders in the world to some breathtaking heights Saturday night for the 16th Annual Monster Energy-AMA Supercross.
Those athletes will take their 350-pound motorcycles and leap them more than 70 feet in the air plus hit more than 60 mph in certain spots of the tight track.
Site prep for the track is a precise art with crews placing 3,800 pieces of plywood and plastic to cover the existing field of the stadium. Then in comes the dirt - and it's all local.
Every stop on the 17-city tour uses local dirt, according to Supercross officials, with some clay mixed in to hold the moisture content. The Chase Field dirt is stored about three miles away from the stadium and is recycled year after year.
Gates open at 12:30 on Saturday with the finals set to begin at 7 p.m. More information on the Supercross tour and Saturday's events can be found here by clicking Phoenix Tour Stop.
Copyright 2013 CBS 5 (KPHO Broadcasting Corporation). All rights reserved.