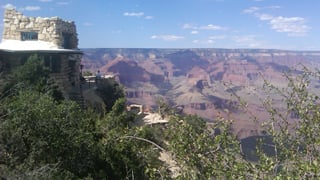 GRAND CANYON NATIONAL PARK, AZ (AP) -
A new building is opening at the Grand Canyon that will house the national park's science and resource management staff.
A ribbon cutting ceremony is planned for Tuesday, though the building won't open until next month.
The staff will move from antiquated buildings into the new one that was designed to be energy efficient with a water conservation system and solar power.
The funding for the green features came from a grant administered by the Flagstaff-based Grand Canyon Trust, and two utility providers.
The 8,800 square-foot building has office space, a conference and training room, two science labs, a weather station and a visitor lobby.
Grand Canyon officials say displays and information provided to visitors from the staff will help people learn about the canyon's scientific relevance.
Copyright 2013 Associated Press. All rights reserved.