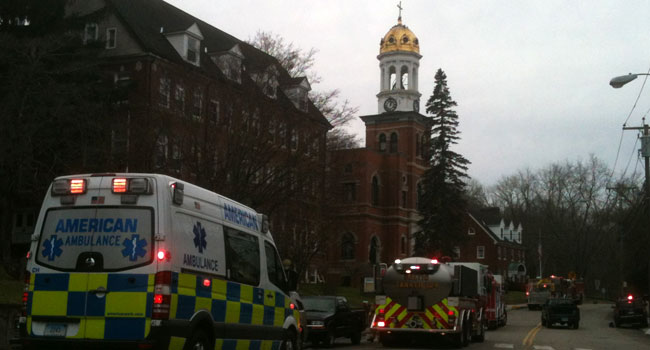 BALTIC, CT (WFSB) -
No one was injured after a fire at a boarding school in Baltic for high school-aged girls Tuesday morning.
Firefighters were called to the Academy of the Holy Family, located at 54 West Main St., just after 10:30 a.m.
The fire was knocked down by firefighters within an hour, officials said.

According to officials, the fire started on the roof above the front door. The students live on the second floor of the 200-year-old building.
The fire chief told Eyewitness News that the fire could have been worse, even firefighters did not arrive quickly.

Baltic is the town center village in Sprague, and the Academy of the Holy Family is a Catholic day and boarding high school for American and international young women, according to its website.

Five volunteer departments from the area helped the Baltic firefighters extinguish the fire.
The cause of the fire is under investigation. A fire marshal from Hartford will assist in the investigation.
However, officials said work was being done on the roof area before the fire started.

Copyright 2013 WFSB (Meredith Corporation). All rights reserved.