Southbound drivers caught in I-17 and Loop 101 delays.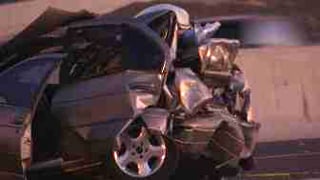 The woman who was working on her vehicle in the HOV lane seriously injured.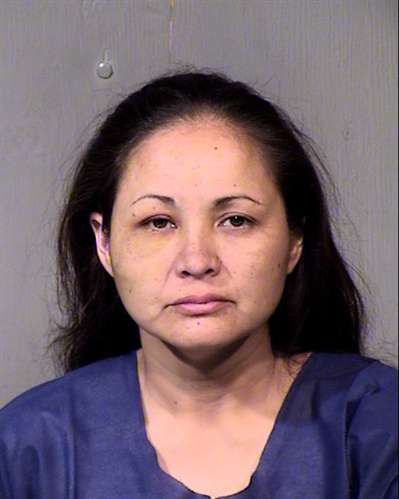 Angelica Maria Moreno (Source: Maricopa County Sheriff's Office)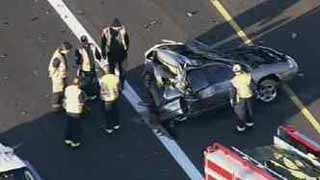 One of the vehicles was totaled.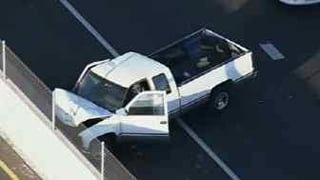 The hit-and-run driver fled on foot.
PHOENIX (CBS5) -
A woman has been arrested in connection with a hit-and-run crash that injured a motorist fixing a disabled car.
Authorities said Angelica Maria Moreno was driving a white pickup truck along Interstate 17 near State Route 101 at about 4:45 p.m. on Jan. 15 when she slammed into the car that was broken down in the HOV lane.
Moreno and her passenger, later identified as Joe Valenzuela, ran off.
Other people in a subsequent crash chased the suspects and DPS credits them with helping in the arrests.
"Witnesses to the crash actually chase after them while staying on 911 with us," DPS spokesman Carrick Cook said.
The suspects were taken to the hospital for treatment of their injuries. Authorities said they believe Moreno was on drugs at the time of the crash.
Moreno was arrested on Friday for fleeing the scene of a serious crash and drug possession. She's also facing aggravated assault charges.
Police said the victim, Maria Hurtado-Rodriguez, has serious injuries to her upper body. She is expected to survive.
Copyright 2013 CBS 5 (KPHO Broadcasting Corporation). All rights reserved.