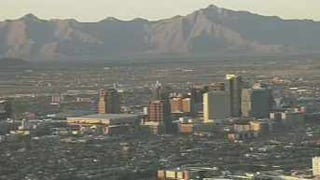 Phoenix skyline
SAN FRANCISCO (CBS5) -
Toxic chemicals managed, treated or released into the environment from facilities operating in Arizona increased in 2011 when compared to 2010, according to the latest Toxics Release Inventory data from the U.S. Environmental Protection Agency.
During 2011, the latest year for which data is available, about 98 million pounds of toxic chemicals were released from 261 Arizona facilities. Arizona's total reported on-site and off-site releases increased 22 percent, or 18 million pounds, when compared to 2010 data. [Related: State fact sheet]
"Community Right-to-Know data helps all of us remain aware of the types and amounts of chemicals being used in our neighborhoods," said Jared Blumenfeld, EPA's regional administrator for the Pacific Southwest.
Data from 2011 in Arizona show:
Air releases decreased 2 percent, or 69,000 pounds, since 2010.
Water releases decreased 27 percent, or 439 pounds since 2010.
On-site land releases increased 24 percent, or 18 million pounds, since 2010.
Underground injection releases did not change since 2010.
Total off-site transfers have decreased 41 percent, or 452,000 pounds, since 2010.
The annual TRI reporting began in 1988 after the enactment of the Emergency Planning and Community Right-to-Know Act of 1986.
The chemical information in the inventory is calculated by industrial facilities and reported to the EPA. Total releases include toxic chemicals discharged by facilities to air, water, land, and underground, and the amount transferred off-site for disposal. Pollution controls apply to many of the reported releases.
Copyright 2013 CBS 5 (KPHO Broadcasting Corporation). All rights reserved.